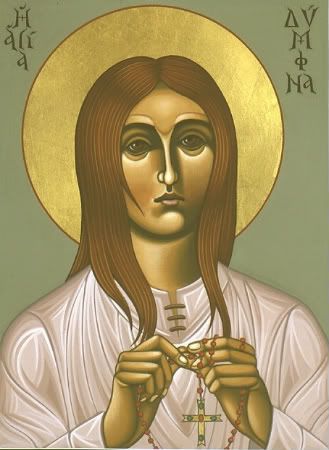 Recently in my healing work with the Archangels, I've been guided to begin seeking the aid and intercesson of another order of divine beings, the Saints. You may have gathered from some of my previous articles here that I am very interested in utilizing energetic and vibrational healing in the treatment of mental wellness issues - as this is a subject close to my own heart, and with which I have a great deal of experience dealing. In this entry I will present Saint Dymphna, the Patron Saint of Nervous and Mental Disorders (as well as of Incest Survivors and Runaways), along with ideas for calling upon her aid and intercession for those who may be in need of healing on the mental/emotional levels.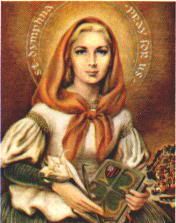 As with the Angels, one does not necessarily need to be of the Catholic or even Christian faith to petition the aid of the Saints. Doing one's best to live the core values of Love and Compassion are what are important, and wishing to work for the highest good of all those involved.
The traditional understanding of the intercession of Saints is that the Saints will pray on the petitioner's behalf, with the idea that having crossed over already they are "closer" to the Divine and better able to deliver messages to the Source. I suppose being Saints they get the priviledge of priority when it comes to prayers being answered!
However, those that work with Saints on a more personal level, tend to believe and experience that the Saints are much more active in working on our behalf then simply delivering messages back and forth to the Divine; that they take an active personal interest in our petitions for aid, and personally work through whichever metaphysical channels and resources that they have at their disposal for our aid.
In my admittedly small amount of time working with the Saints (and actually the Archangels are considered Saints as well - so in that regard I have a bit more of a history than I'm giving myself credit for) I have also had the experience of them working very directly for our cause.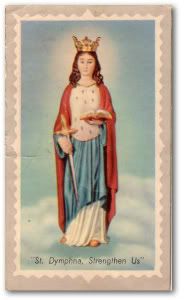 The story of Saint Dymphna is a relatively short and sad one, as she was murdered when she was only 15. There are many different versions of the story, but all seem to agree on one core storyline.
Dymphna was the daughter of an Irish chieftain, and was a devout Catholic like her mother. She decided to dedicate her life to her faith, and took vows of celibacy to this end. Her mother died tragically when she was in her early teens, and in his deep grief her father went mad with despair.
In his madness he felt that only through being wedded to another women who looked like his late wife would be feel whole again. A search was conducted, but no women met his demanding requirements for appearance and character. It was then that he came by the dark idea to marry his daughter Dymphna, who was (unfortunately) the spitting image of her mother.
When he presented Dymphna with his proposal she was shocked and refused on the grounds that not only was it unnatural, that it was against her vows to enter into marriage to any man...let alone her father. His advances become ever more insistant and threatening, and finally Dymphna ran away from home in the company of her confessor in order to find a more peaceable environment, and to persue her life as a holy woman.
For a short while Dymphna found shelter in the village of Gheel, and with the help of the money that she had absconded with (she was a Chieftain's daughter after all and had access to great wealth) she funded and participated in a healing ministry. It's thought that it was so successful due to the fact that her money could buy the best healing herbs and ointments that may have been difficult for most people to obtain. She was greatly loved and her ability as a healer and as a dedicated woman of God was well respected.
Sadly, her father was eventually able to track her down. His obsession with her had not abated with her dissapearance, and once he had confirmation of where she was residing he set out to find and claim her. When he arrived in Gheel, he once again proposed marriage and ordered Dymphna to return with him. Her confessor tried to intercede on her behalf, but her father simply cut him down where he stood. He turned his sword on her, and when she once again refused him - he beheaded her. She was only 15 years old.
Since then Gheel was known as a place of healing for all those with mental and nervous disorders. The whole community rallied around those who came to them for healing, and once they were released from the hospital they were provided with jobs and other roles within the community to help them reintegrate into society successfully. Everyone in the area had a very postitive outlook about the fact that those with mental wellness issues could certainly recover fully, and they all supported them in every way possible. It is a (sadly) unique model of care that has been copied in several other places in Europe. Saint Dymphna is credited with continuing her healing ministry by interceding on behalf of the many, many people that came to Gheel seeking her aid - and this news spread and motivated untold thousands of others to petition and receive her aid all over the globe!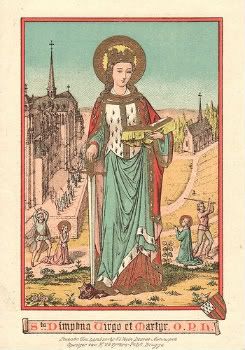 When I found myself drawn to Saint Dymphna by Archangels Michael and Raphael, I was unsure as to how to go about petitioning her aid since I was not Catholic. I found, through talking to several people that work with Saints as part of their spiritual path, that it was really quite simple. It pretty much follows the same pattern as developing an affinity and working relationship with other Divine Beings.
---
HOW TO START WORKING WITH SAINT DYMPHNA1) Set up a small space that you can use for daily devotions and meditation.
Acquiring a picture of some sort that can serve as the central focus of this space will be very helpful. If you live near a Catholic supply store, or want to search Ebay, you can find many different statues or holy cards that you can use for this purpose. Of course you can also find an image online that appeals to you and print it out for free!
St. Dymphna is often associated with the colors red, as she was a martyr, white, which symbolizes her purity, and green which is related to healing. You can use any of all of these colors when decorating a space for working with her.
2) Feel free to personalize your sacred area by putting other items on the shrine area that is resonate with your intents and desire
- such as healing crystals, oils, herbs, or other images that symbolize mental/emotional balance to you.
2) Simply spend a few minutes every day at this sacred space, asking for the guidance or aid, or even simply the presence of the Saint you are trying to work with.
If you enjoy praying, you can Google for prayers dedicated to that Saint - as the Catholic church has plenty! You may wish to slightly alter some of the wording so that it is more resonant with your own belief system, or needs. I often do this. Try looking for chaplet prayers and novena prayers (novenas are generally repeated daily for 9 days, or some factor of nine), as these are generally said for the purpose of gaining the blessings of or aid from a Saint for a particular purpose.
A nice site that has alternative versions of the traditional chaplet and novena prayers (that are Divine Feminine-inclusive) for Saint Dymphna can be found here:
http://www.santuariosanrafael.com/index_files/Page1490.htm
However you don't need any specific prayers or special words to say - you can simply speak from your heart or sit in quiet meditation while concentrating on your intent.
3) Mark the time that you spend at the shrine by lighting a candle, and/or burning incense with a high and holy vibration such as frankincense.
This will help set the time you spend at the shrine as seperate and sacred, and show your respect, as well as your positive committment to your intent.
4)
If you wish, you can concentrate on your petition - what you are asking the Saint to help you with - while rubbing oil into the candle before you light it.
A nice quality olive oil will work well, but you can use essential oils blends that promote healing and emotional balance too (lavendar works well for this). Visualize the end result that you would like to achieve with the help of the Saint. Glass encased novena, also called 7-day candles are made just for this purpose, and you can often conveniently find them in dollar stores or grocery stores. While the candle is lit it will keep releasing your intentions out into the Universe - like an ongoing prayer or affirmation! If you are going to be extinguishing the candle between your visits to the shrine, make sure to snuff it out rather than blowing, as it is consider more respectful.
5)
In addition to, of in lieu of a candle, you can write out your desires by hand on a piece of paper and leave it in front of or beneath your central image.
This will help keep the energies of your request present at the shrine at all times, even when you are not there working or meditating.
6)
You should begin to feel the presence of the Saint at your shrine, or in your life, within a few days or weeks.
Look for subtle signs that the Divine is at work! Synchronicities, or some people call them striking coincidences, will likely be one way that you will start perceiving the intercession.
---
I've made a small shrine for Saint Dymphna, and obtained a pearl (a stone of peace) chaplet for use with her. Every day I pray her chaplet at least once...and I'll tell you why I decided to do so!
I was giving a treatment a few days ago, and I felt an intuitive call to include Saint Dymphna in the healing session. At first I hesitated, as usually only angels are called into the healing, and my clients are all aware of that. However, I am cognizant of the fact that not every client may be comfortable with any other kind of Divine Being being involved. But I was quickly reminded that this client actually was a Catholic, and so I decided to go ahead and follow my intuition.
I wasn't sure how to "call in" Saint Dymphna, so I asked the Archangels to help me by finding her for me. Within a few seconds I definitely felt a new presence in the room, standing beside the massage table. I greeted her, as I could plainly see that it was Saint Dymphna - she was a young teenager, standing about 5'2" high, and was dressed similarly to how I had seen her depicted in many of her icons. There was a very quiet and gentle, but very bright, energy around her. I thanked her for coming and asked if she would aid the healing. She smiled and placed her hands onto the body of my client - right on the two chakras that I knew had been most involved in the core issues we were working on. Her energy seemed to glow and as the light increased, her form become more diaphonous...not as easy to see.
In just a few minutes I saw her draw away from my client, her work finished. I thanked her for her participation in the healing, and asked if she would be willing to work with me on a regular basis, aiding my practice and helping me more effectively address the mental wellness of those who came to me. I felt her walk over to me smiling brightly, and felt her embrace me warmly. "Of course" was the soft answer that whispered inside my mind. I then asked her what I should do to keep her presence close to me, as a constant guiding force in my life. I distictly heard "pray my chaplet". And so I do, and as I pray it I feel her very close and a gentle warmth fills and comforts me.
Because of her compassionate response to my request for aid, a request which I firmly believe was suggested by the Archangels, I felt the need to share my experience with others who may be looking for sources of Divine Healing in the face of mental wellness challenges which they, or someone they love, may be facing.
I hope that this information is inspirational to some out there, and will be a source of hope and healing!
~Devi~
-----------------------------------------------------------
As a personal devotional hobby, I've begun making small shrines - and since "finding" Saint Dymphna I created several shadow box shrines that can be used to work with her. If you are interested in purchasing one ($30us), please contact me for a link to a purchase point.